Find a reseller
Do you want to get in touch with a reseller?
Are you thinking about installing accessories to your charging station? Contact one of our certified installers.
Charge Amps Certified Installers
Dynamic load balancer
For an easier everyday life – and optimised charging
Charge Amps Amp Guard is the perfect addition to our EV chargers. It is mounted in the electrical cabinet, easily connected to the EV charger via Charge Amps Cloud and together they enable load balancing – meaning that the household's or property's electrical consumption is dynamically adjusted so several power consuming appliances can be running at the same time without any fuses blowing.
This is how Charge Amps Amp Guard works
In most cases, the electricity consumption is at its highest during the day or the evening. Charging an EV requires a lot of power during a long period of time – and when the charging is combined with e.g., food cooking on the stove, clothes being washed in the washing machine and the ventilation working at full capacity, there is a risk that the electrical system will be overloaded, and fuses will blow.
Charge Amps Amp Guard, together with Charge Amps Cloud, enables dynamic load balancing, which measures and controls the total loading in the household. In first place, all available electricity is allocated to the household appliances and thereafter the remaining electricity goes to the EV, which ensures that electrical system is not getting overloaded. And then, when the household uses less energy, all available electricity will go to the EV. This means that the car will be charged faster than without a load balancer.
Charge Amps Amp Guard makes EV charging much smoother, smarter and better – without the user having to think about, or do, anything.
For houseowners, workplaces and public areas
Charge Amps Amp Guard is the perfect choice for private residences or housing cooperatives as well as for public places or companies. For house owners, it ensures that the EV can be charged while other important power consuming appliances are running at the same time. For housing cooperatives, Charge Amps Amp Guard enables several EVs to be charged at the same time as the residents use other power consuming appliances. In public areas, Charge Amps Amp Guard enables EVs to be charged at the same time as the electrical capacity is shared with other surrounding buildings, street lightning and other things that require large electrical capacity. For companies, several EVs can be charged at the same time as the employees use all the necessary electronical equipment.
No matter where Charge Amps Amp Guard is placed, the dynamic load balancing will ensure that no fuses blow and that the cars receive the most optimised charging possible.
The best choice for solar panel owners
Get your car rolling with sunrays! With Charge Amps Amp Guard, our intelligent feature Green Charging is enabled – where you can easily connect your solar panels and EV charger via Charge Amps App, which in turn allows you to drive your EV on one hundred percent renewable and green electricity. Read more about Green Charging and all the benefits here.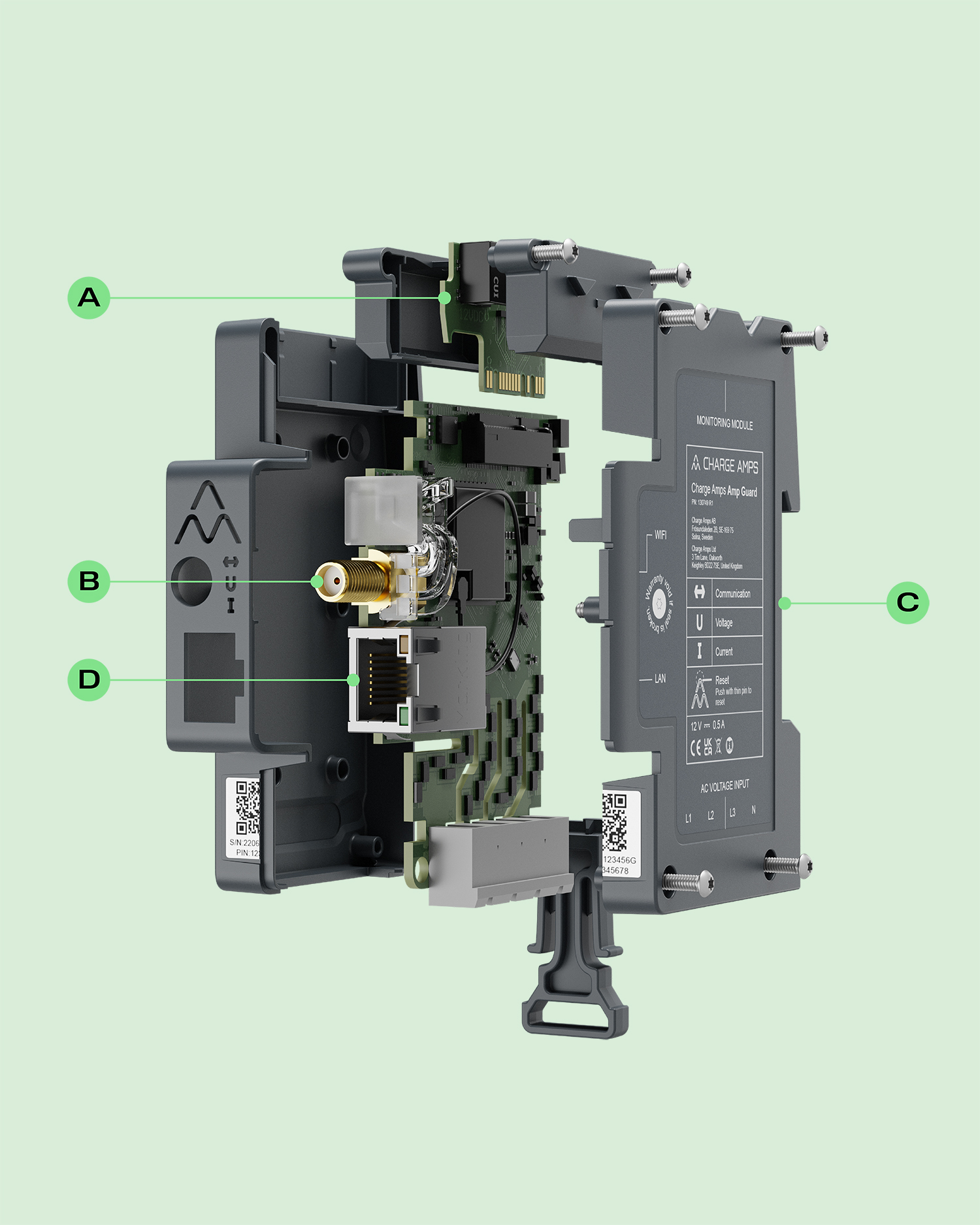 Monitoring module with current sensors

WiFi connector

DIN-rail mount

LAN interface
Read more
Product information
Charge Amps Amp Guard
Part number:
130651
Measuring range (current):
± 0–63 A, 1- to 3-phase
Measuring range (voltage):
85–256 VAC
Network:
LAN, WiFi 2.4 GHz
Power supply:
12 VDC 0.5 A, provided by the included 230 VAC 50 Hz power supply, or from other source
Operating temperature:
-35°C to +55°C
Safety rating:
CAT III 300 V
Installation:
DIN rail mounting 1M Charge Amps Amp Guard, 1M power supply
Current sensor cable length
(to maintain measurement accuracy, the charging cable must not be tampered with):
80 cm
Maximum cable diameter for current sensors:
10 mm
Dimensions (W x D x H):
Charge Amps Amp Guard 17.5 × 73* × 100 mm
Power supply 17.5 × 58 × 90 mm
*86 mm with WiFi antenna (from DIN rail)
Read more about Charge Amps Amp Guard
Frequently Asked Questions
What is Charge Amps Amp Guard?
Charge Amps Amp Guard is a smart, connected power monitor and load balancer that optimises charging in relation to other loads in the property.
What is included when you purchase a Charge Amps Amp Guard?
In the package you will find a Charge Amps Amp Guard, three current transformers, one power supply, one WiFi antenna and an installation manual.
The load balancer controls the charging current to maximise it without tripping any fuses. It is compatible with the Charge Amps Halo and Charge Amps Aura charging stations.
What does Charge Amps Amp Guard do?
Charge Amps Amp Guard is easy to configure via WiFi or LAN, and it is also interoperable with solar cell installations.
If you want to buy a Charge Amps Amp Guard you can obtain it from one of our knowledgeable resellers around the country. You can find your nearest reseller and installer here.